Too Hot For Santa by Val Francis
Author:Val Francis , Date: August 1, 2020 ,Views: 15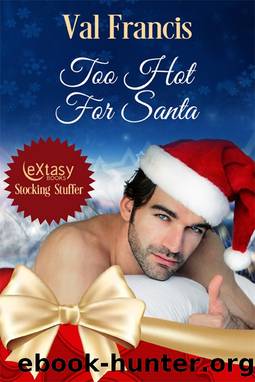 Author:Val Francis
Language: eng
Format: mobi
Tags: Humor, Gay, Short Story, GLBT, Contemporary, Adult, Holiday, Erotic romance
ISBN: 9781487413736
Publisher: eXtasy Books
Published: 2017-12-23T06:00:00+00:00



"Are you planning to stay on this Godforsaken mountain forever?"
Clare had always been the pushy type. We'd gone to college together, and without her, I doubt I would have had any kind of social life at all. In fact, Robert, the bastard who turned my life into a disaster area, had cited my lack of a social appetite as a reason for him wanting to screw every only-just-legal twink he could lay his hands on. "I don't know, I like living on the mountain," I lied. "It depends on a lot of things."
"Such as?" She took a sip of her wine and waited for an answer.
When it came, it had all the force of a dam wall crumbling. "There's nothing for me back in Brisbane... Christ, there's nothing here... nothing any fucking where." I could feel tears welling up, but I was determined not to cry. "Why doesn't anyone like me, Clare? Am I such a freak?"
"Nobody thinks you're a freak, Mathew... "
"But Robert... "
She cut me off at the pass. "Robert is nothing but an arrogant, self-centred twat who refuses to act his age and instead is obsessed with attempting to recapture his youth by chasing after anyone the other side of twenty-one who'll have him. Before long, he's going to wake up one morning, realize how old he is, and find that the guys he's obsessed himself with for so long simply find him a figure of fun, a pathetic queen who ought to know better."
When she'd finished, it felt as though I'd walked into a cold shower. She'd meant it kindly, but some things were impossible to avoid. "Robert's three years older than I am," I retorted. From her expression, she looked puzzled until she asked me the one question that I'd dreaded.
"You've never said, not once in all the years I've known you. How old are you, Mathew?"
There appeared to be a definite probability I would choke. I said nothing in the hope that the dreaded question would go away. I pretended to be more interested in watching Justin slaving away at the kitchen bench, preparing lunch with the aid of Sharon, who had become Robin to his Batman. Though he didn't look at me directly, I knew without a doubt he'd be listening to our conversation. Justifiably, I felt annoyed. Clare knew better than anyone not to broach the subject. I could barely believe it when Justin came to my rescue.
"Didn't anyone ever tell you, Clare, that it's unthinkable to ask a queen his age?"
She looked surprised.
"But this is Mathew," she protested.
"Back home, that would be enough to get you severely bitch slapped."
I watched as he plunged his knife into a watermelon, and my imagination had him plunging another item somewhere else.
Download


Copyright Disclaimer:
This site does not store any files on its server. We only index and link to content provided by other sites. Please contact the content providers to delete copyright contents if any and email us, we'll remove relevant links or contents immediately.