The House of Wisdom: How the Arabs Transformed Western Civilization by Jonathan Lyons
Author:Jonathan Lyons [Lyons, Jonathan] , Date: January 14, 2018 ,Views: 961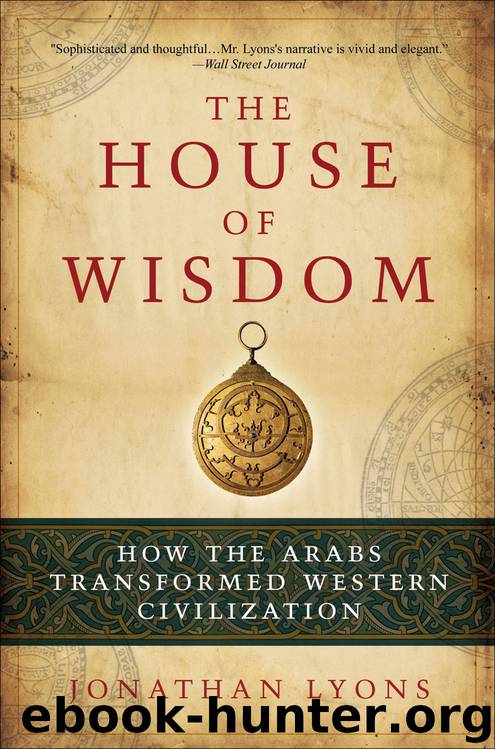 Author:Jonathan Lyons [Lyons, Jonathan]
Language: eng
Format: epub
Tags: Non-Fiction
ISBN: 9781608191901
Google: 4GMX9Vloa3MC
Amazon: B004TE8LGI
Publisher: Bloomsbury Press
Published: 2009-03-30T07:00:00+00:00



Chapter Six
"WHAT IS SAID OF THE SPHERE …"
ONE PALE DAWN, twenty-two years before the Antioch earthquake, a scholar-monk not far from Adelard's West Country home quietly made scientific history. Pointing an astrolabe—one of the very few then in use in Europe—at an eclipse of the moon on October 18, 1092, Walcher, the prior of the monastery in Great Malvern, carried out the first known Western experiment to improve astronomical predictions. A year before, while traveling in Italy, the clergyman had witnessed a lunar eclipse but found he had no way to record the events overhead, other than to guess the approximate time. A brother monk who said he had witnessed the very same celestial phenomenon to the west in England gave a strikingly different estimate of the time.1 Walcher or his colleague was almost certainly in error, for any time difference between the two locales would have been perceptible but slim.2 Still, this was the same phenomenon once exploited by the early Abbasid astronomers to establish the difference in geographic coordinates between cities and other important places.
Confusion over the reported sightings stirred Walcher into action: "I still had no certainty about the time of the eclipse and I was distressed about this, because I was planning to draw up a lunar table and had no starting point." He vowed not to be caught unprepared again. One year later, Walcher got his chance when an eclipse again darkened the nighttime sky, this time fifteen degrees above the western horizon. "I at once seized my astrolabe." He used the device to note the position of the eclipse and to determine the time of day.3
Walcher was a leading figure in a small circle of local clerics with personal and intellectual roots back in Lotharingia, source of many of eleventh-century England's most learned courtiers and churchmen. At the time, there was simply no secular education of note available, a circumstance that began to change, slowly at first and then picking up steam, with the Norman Conquest of 1066. The invaders brought the books and teaching masters of the European continent to England for the first time, although it would take until around 1130 before a serious scholastic community became established at Oxford.4 The late bishop of Bath and Wells, Giso, whose successor was Adelard's own mentor, John de Villula, had been another member of this loose intellectual movement.5 So, too, was Robert, bishop of Hereford—like Walcher a native of Lotharingia and a keen astronomer and mathematician. At the time his friend and colleague was in Italy, Robert consulted the stars in preparation for a proposed journey to the dedication of Lincoln Cathedral; his reading of the stars correctly predicted that the ceremony would not take place as scheduled, allowing him to avoid a difficult and unnecessary journey.6
For a time, Prior Walcher worked closely with a converted Spanish Jew, Petrus Alfonsi, who arrived in the English Midlands with a basic knowledge of Arabic astronomy and mathematics. The pair collaborated on a failed attempt to present al-Khwarizmi's zij to a Western audience, a project Adelard completed successfully.
Download


Copyright Disclaimer:
This site does not store any files on its server. We only index and link to content provided by other sites. Please contact the content providers to delete copyright contents if any and email us, we'll remove relevant links or contents immediately.