The Addiction Counsellor's Toolbox by Howatt William
Author:Howatt, William [Howatt, William] , Date: August 1, 2020 ,Views: 13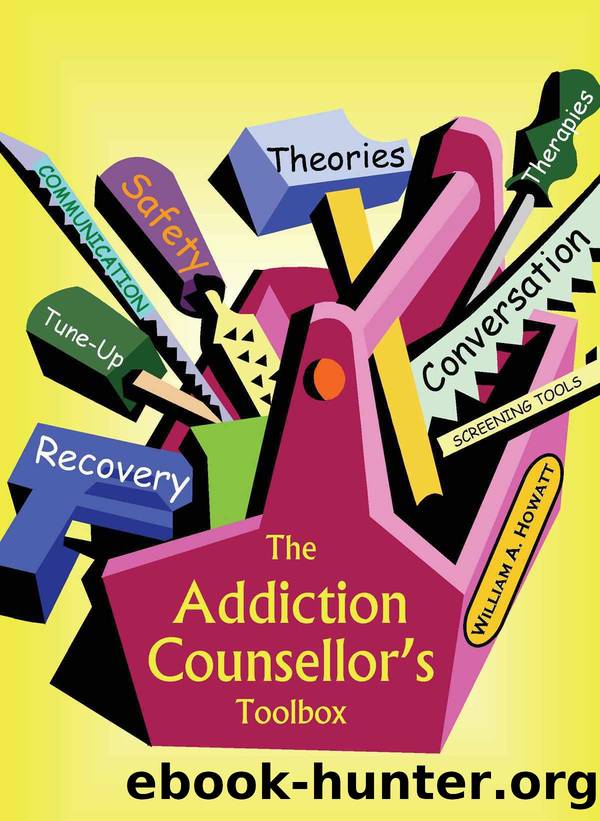 Author:Howatt, William [Howatt, William]
Language: eng
Format: epub
Publisher: Unknown
Published: 2013-04-07T16:00:00+00:00



• Start with activities and outcomes from last
session
• Use collateral data whenever possible • Provide meaningful feedback and acknowledge
success
PART VI
THE JOURNEY
The paradox of this series likening the treatment process of an addictive disorder to the solving of a Rubik's Cube is that the last side of the cube is the only one that really matters. And if we never get to this point in treatment the client's hope of a quality future is minimal.
The first five sides of the cube are similar to emergency room treatment for someone who has been injured in a car crash. In that case, their injuries must be treated and their condition stabilized, so they can proceed to physical rehabilitation and move forward with their life. In addiction counselling, the first goal of treatment is to get the person to stop their addictive behaviour. When their condition has been stabilized, they can move on to full recovery from their addiction.
Addiction counselling interventions are designed to assist a client to navigate their current situation and to get them to a point where they are healthy and strong enough to move forward with their life.
This last side in the Rubik's Cube series provides a new tool for addiction counsellors to help clients get on the right track for the new journeys they will need to take to move away from a life of addiction or risk of addictions taking over their lives.
Addictions are seldom the real problem. Often the addiction and all its distress are fueled by other core issues, such as money, career, relationships, self-worth, and health. This may not be readily apparent, especially when powerful chemicals that are physically addictive can take over a person's life after just one use.
Consider for a moment how it is possible that Jimmy uses meth socially a couple of times a year without developing a craving for the drug. But when his friend Mary used meth for the first time, she was not able to stop until eventually an overdose took her life. In a short meth run of six month she gave up her job, morals, values, health, and spirit, all to keep an addiction satisfied.
So why did meth take Mary and not Jimmy? We really do not know. What we do know is drugs like meth need only be used once to take hold of a person and become habit forming. This is why an active, addictive disorder is often a person's primary problem when they come for treatment.
Once an addictive disorder has been stopped, the work is far from done. If this were not true, why would so many people relapse? This speaks to my point that the addiction is often a dangerous symptom, not the core problem.
The challenge to recovering from addictive disorders is that they must be replaced by new habits that are not as risky and that also help a person resolve core issues. Getting someone to stop an addictive behaviour is a major milestone, but it only provides an opportunity to make the real change to help them realign and resolve core issues.
Download


Copyright Disclaimer:
This site does not store any files on its server. We only index and link to content provided by other sites. Please contact the content providers to delete copyright contents if any and email us, we'll remove relevant links or contents immediately.