Taming the Big Green Elephant by Ariel Macaspac Hernandez
Author:Ariel Macaspac Hernandez , Date: February 23, 2021 ,Views: 18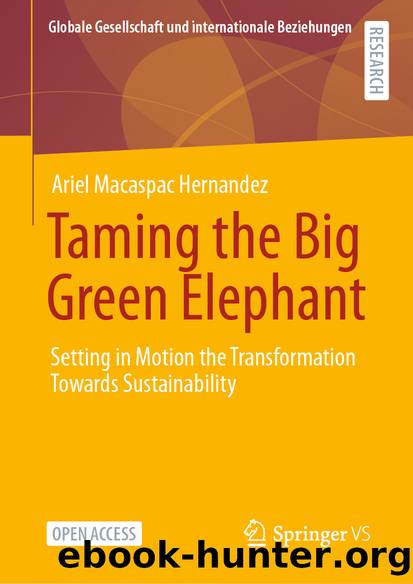 Author:Ariel Macaspac Hernandez
Language: eng
Format: epub
ISBN: 9783658318215
Publisher: Springer Fachmedien Wiesbaden



9.4 Chapter Conclusion—Theory Testing and the Implications of Case Findings for Theory and Practice
Of particular interest, in terms of the outcomes of the case studies, is how the gaps between theory and practice can be bridged. The case studies highlight how Mexico and China's deviation from the theoretical models of democratic and authoritarian policy models have captured interesting causalities that can be further conceptualized.
9.4.1 Lessons for Theory
The hypothesis that the successful implementation of sustainable, low-carbon policies is highly contingent on the capacity and autonomy of the State can be confirmed. However, as vindicated by the case studies, the terms 'capacity' and 'autonomy' require further concretization. State capacity, in the context of sustainable, low-carbon transformation, can be understood as how the State is able to accommodate different the perspectives of stakeholders affected by changes. As highlighted by Bruce Gilley (2012), China has the advantage of having relatively strong institutions that could manage the participatory process so as to ensure complementarities of top-down and bottom-up mechanisms (see Fraser et al. 2006; Stringer et al. 2007). Thus, as Gilley (2012) concludes, China had a potential advantage over more democratic regimes with weak states such as the Philippines and Thailand, as well as over more authoritarian regimes with weak states such as Myanmar (see Myint 2007).
As the Chinese leadership has linked inclusiveness with efficiency, formal and informal rules have been introduced and institutionalized to ensure representation in various decision-making processes. In contrast to China, Mexico seems to have more difficulties in engaging various stakeholders. In addition, autonomy, in the context of sustainable, low-carbon transformation, can pertain to how specific issues can be initially securitized to attract political attention and later on de-politicized to promote constructive collaboration. China is able to achieve a "new normal" in addressing emerging issues, because of structural reforms allowing the formal separation of political and non-political decision-making, where in some cases, non-political decision-making is outsourced to non-political actors for efficiency reasons. In Mexico, sustainable development and environmental issues are trapped in the political sphere, because of how the decision-making has been structured.
Moreover, a comparison of the case studies on Mexico and China confirms that a democratic policy model does not guarantee inclusiveness in decision-making. Because of Mexico's focus on the electoral process as the main legitimizing source of governance, there is a sense that this question of legitimacy has already been resolved. Thus, there seems to be less motivation to ensure the efficiency of policies, as legitimacy has already been covered by electoral victories. In addition, as the Council on Hemispheric Affairs (2011) points out, failure in implementing robust, democratic foundations has led and has reinforced structural imbalances that promote clientelism in Mexican politics. In the context of sustainable, low-carbon transformation, Mexico's focus on the electoral process has unintentionally framed sustainability and climate mitigation as mere problems of governance, instead of ones of social cohesion, long-term and inclusive economic development, and of environmental integrity. By tracing the process of legitimization, the equifinality of paths becomes evident, as different paths can
Download


Copyright Disclaimer:
This site does not store any files on its server. We only index and link to content provided by other sites. Please contact the content providers to delete copyright contents if any and email us, we'll remove relevant links or contents immediately.