Let Us Dream: The Path to a Better Future by Pope Francis
Author:Pope Francis [Francis, Pope] , Date: December 5, 2020 ,Views: 65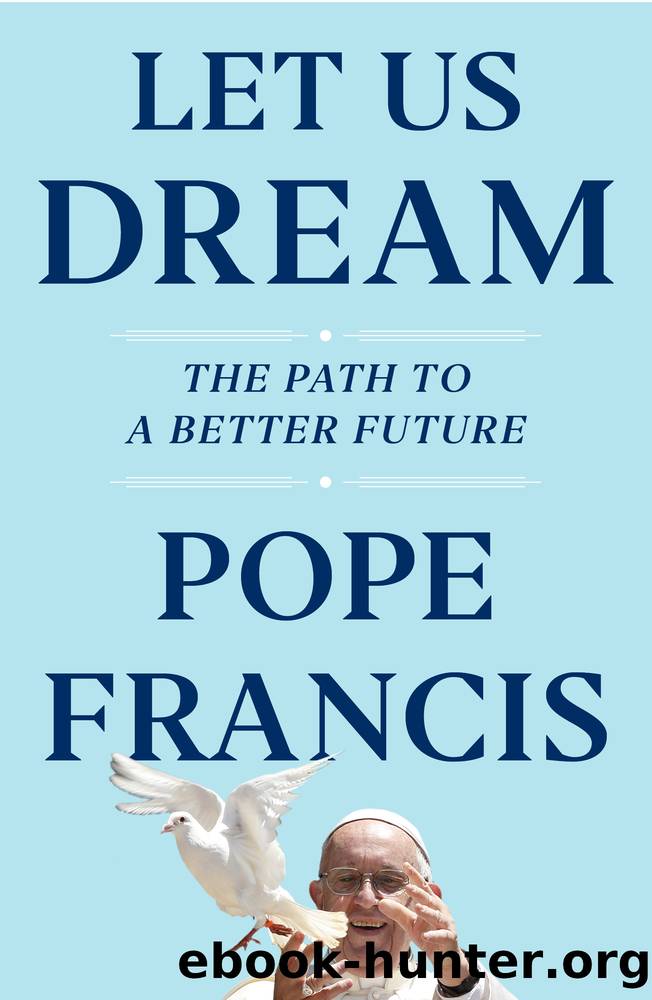 Author:Pope Francis [Francis, Pope]
Language: eng
Format: epub
Tags: religion, Catholicism
ISBN: 9781982171889
Google: c3T6DwAAQBAJ
Amazon: 1982171863
Publisher: Simon and Schuster
Published: 2020-12-01T05:00:00+00:00



* * *
Guardini gave me a startling insight to deal with conflicts, analyzing their complexity while avoiding any simplifying reductionism: there exist differences in tension, pulling apart, but all coexist within a larger unity.
Understanding how apparent contradictions could be resolved metaphysically, through discernment, was the topic of my thesis on Guardini, which I went to Germany to research. I worked on it for some years but never finished writing it up. But the thesis has helped me a lot, especially in managing tensions and conflicts. (Twenty years later, in 2012, after I turned seventy-five, when I thought Pope Benedict might accept my resignation as Archbishop of Buenos Aires, it occurred to me for a time that I might, after all, finish the thesis. But in March 2013 I was transferred to another diocese. In the end I gave what I had written to a priest who was studying Guardini.)17
One of the effects of conflict is to see as contradictions what are in fact contrapositions, as I like to call them. A contraposition involves two poles in tension, pulling away from each other: horizon/limit, local/global, whole/part, and so on. These are contrapositions because they are opposites that nonetheless interact in a fruitful, creative tension. As Guardini taught me, creation is full of these living polarities, or Gegensätze; they are what make us alive and dynamic. Contradictions (Widersprüche) on the other hand demand that we choose, between right and wrong. (Good and evil can never be a contraposition, because evil is not the counterpart of good but its negation.)
To see contrapositions as contradictions is the result of mediocre thinking that takes us away from reality. The bad spirit—the spirit of conflict, which undermines dialogue and fraternity—turns contrapositions into contradictions, demanding we choose, and reducing reality to simple binaries. This is what ideologies and unscrupulous politicians do. So when we run up against a contradiction that does not allow us to advance to a real solution, we know we are faced with a reductive, partial mental scheme that we must try to move beyond.
But the bad spirit can also deny the tension between two poles in a contraposition, opting instead for a kind of static coexistence. This is the danger of relativism or false irenicism, an attitude of "peace at any price" in which the goal is to avoid conflict altogether. In this case, there can be no solution, because the tension has been denied, and abandoned. This is also a refusal to accept reality.
So we have two temptations: on the one hand, to wrap ourselves in the banner of one side or the other, exacerbating the conflict; on the other, to avoid engaging in conflict altogether, denying the tension involved and washing our hands of it.
The task of the reconciler is instead to "endure" the conflict, facing it head-on, and by discerning see beyond the surface reasons for disagreement, opening those involved to the possibility of a new synthesis, one that does not destroy either pole, but preserves what is good and valid in both in a new perspective.
Download


Copyright Disclaimer:
This site does not store any files on its server. We only index and link to content provided by other sites. Please contact the content providers to delete copyright contents if any and email us, we'll remove relevant links or contents immediately.