Ferris Braden [Beyond the Marius Brothers 6] (Siren Publishing Ménage Amour ManLove) by Joyee Flynn
Author:Joyee Flynn , Date: January 25, 2021 ,Views: 115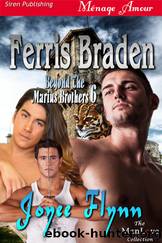 Author:Joyee Flynn
Language: eng
Format: epub
Tags: Romance
Published: 2012-11-20T16:00:00+00:00



Chapter 6
Onah
My heart broke for my mate. Such a tragedy he was dealing with. I wasn't sure what to do besides simply be there for him and help in any way I could. Ferris must have felt the same because neither of us would let Rylan out of our sight.
We followed him to his rooms and stood there as he sent messages to the heads of all the margay packs. Then he packed some things, mostly pictures and some extra clothes. Normally I would have thought it frivolous to pack pictures considering there was a limited amount of time we should stay there and hands to carry everything over through the portal… But it was understandable given what he'd gone through.
I'm sure the image of his parents' dead bodies was burned into his mind and he'd want to look at anything that reminded him of happier times.
After that, we made sure everyone was out of the palace and through the portal. Once it was clear we were the last ones and his orders were carried out, we went through it and ended up back in Barnabas's house. The Queen was there with Rylan's friend Cynthia. She handed over Paolo to the margay and closed the portal.
"It is no trouble to reopen it," the Queen said, lying through her teeth. It wasn't for her, but keeping it open was draining. I knew that. "The moment you're ready to start packing up and moving your people's belongings here, my warriors will escort them and help bring everything over. We just had to do the same thing a few months ago when we crossed onto this plane."
"Thank you very much, your highness," Rylan said, giving her a tired smile. Then he went over to Barnabas. "Is your doctor still here? I never got a chance to speak with him."
"No, he went back home with Micah. They're helping to get everyone settled. You don't have to talk with him tonight, Rylan."
"I might as well. I have an hour and a half before I have the conference with the heads of the packs. I'd prefer not to hold it on my laptop. Is there anywhere that has video conferencing that I can use?"
"We have it here but after Desmond Marius saw my setup he wanted one for his own," Bas answered. "I'm sure Desmond will let you use it."
"Thank you for everything, Bas. I'm sorry your kind invitation of dinner was spoiled."
"I'm sorry why it was," he said gently. He patted my mate's shoulder and we headed outside with Cynthia and Paolo.
"I don't feel like driving and the baby shouldn't be in a sports car," Rylan mumbled.
"Cynthia can handle holding Paolo and getting a ride over to the Mariuses'," Ferris said gently. He opened the door to one of the waiting vehicles. "I'll drive your rental. You need a moment alone to breathe, Ry."
"Yeah, okay," he agreed and walked over to the car. I followed, carrying most of what he'd brought over from Italy. Rylan had too much on his plate to have to worry about his bags.
Download


Copyright Disclaimer:
This site does not store any files on its server. We only index and link to content provided by other sites. Please contact the content providers to delete copyright contents if any and email us, we'll remove relevant links or contents immediately.