Bounty [Dominant Wolves, Submissive Mates 2] (Siren Publishing Ménage Everlasting) by Natalie Acres
Author:Natalie Acres , Date: January 25, 2021 ,Views: 53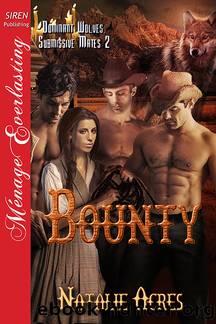 Author:Natalie Acres
Language: eng
Format: epub
Tags: Romance
Published: 2014-04-24T16:00:00+00:00



Chapter Eight
Jock had detected the eyes on the hill right as he'd entered the cabin and caught a glimpse of Carla and Frank fucking. Instead of mounting Old Dolly again, he phased into his wolf form and raced to the ridge. Once there, he shifted again, determined to discuss the Carla situation man-to-man.
"Shift," he ordered Heck.
The gray and white wolf slowly turned and bared his teeth. He blew out a hard breath in defiance, but Jock stood his ground.
"Now, Heck."
Stubborn as hell, Heck took another moment or two before he finally assumed his human form and slumped to the ground. Drawing his knees to his chest, he stared out over the prairie. "She belongs to me, too."
"I think you may be right."
Apparently startled by his reply, he whipped his head around and glared at Jock. "If you knew, why didn't you say something?"
"It's not my place."
"The hell it ain't!" He rose to his feet and marched from one side of the peak to the other, stomping out a fit of rage.
"When you're done there, let me know and we'll sit for a bit and talk about this."
Minutes passed but Jock waited him out. Finally, Heck conceded. He reclaimed a seat in the high grass and Jock sat beside him.
"Want to tell me about it?"
"What's to tell?"
"When did you know?" Jock asked.
"Maybe I've always known. Maybe the reason I didn't want to accept you as one of her mates had more to do with Carla than the joining of two packs."
"You never said anything about either one to me. I'm guessing you didn't mention it to Frank."
Heck snarled. "Oh, he knew. He just chose to look the other way."
"I don't think he did," Jock said, defending Frank.
Since he and Frank had taken Carla as their shared mate, they'd become more like brothers. They lived together and somehow the three of them had made their unusual relationship work.
"He can hear my thoughts, sense my emotions." Heck's shoulders slumped. "He looked the other way because he's too selfish to share."
Jock laughed. "I might go along with that if I hadn't been on the other side of Carla in many intimate situations."
Heck frowned. "You imprinted first. He didn't have any other choice but to accept you."
"Oh, I think he had a choice. We all have choices. Take Grant for instance. He chose to go his own way when Frank's pack joined with mine. Other pack members would argue Grant was never a true WolfDen shifter. If he had been, he wouldn't have been able to walk away from us. You, on the other hand, were loyal to Frank and other pack members. You stayed."
"What else could I do?" Heck propped his elbows on his knees and clasped his hands. "Frank's pack is my family."
"We're all family now," Jock reminded him.
"My response to that could be something along the lines of 'families are supposed to share.'"
They laughed. After the chuckles subsided, Jock said, "I don't think so. In every family there are individuals who seem to have and want more.
Download


Copyright Disclaimer:
This site does not store any files on its server. We only index and link to content provided by other sites. Please contact the content providers to delete copyright contents if any and email us, we'll remove relevant links or contents immediately.