Wanted by Outlaws by Natalie Acres
Author:Natalie Acres [Acres, Natalie] , Date: January 25, 2021 ,Views: 52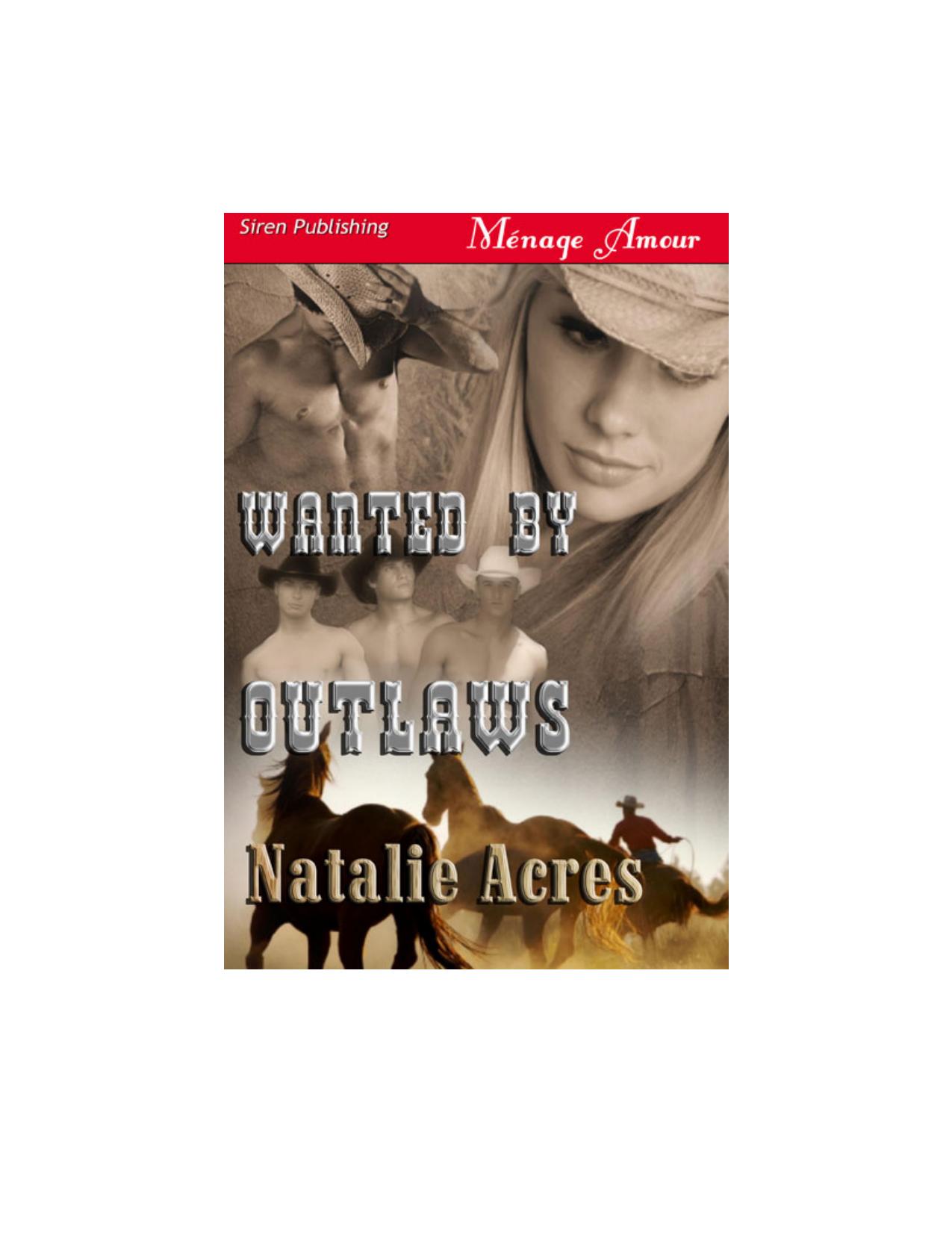 Author:Natalie Acres [Acres, Natalie]
Language: eng
Format: epub
Tags: Book/Menage
ISBN: 9781606014677
Published: 2009-05-01T04:00:00+00:00



* * * *
66
Natalie Acres
Clay's cock pressed against his breeches. He inched inside the whore's room and cautiously closed the door.
"Speak of the devil," the whore said. "I imagine by the look on his face and show of his excitement, he's yours?" Emily and Clay exchanged a heated stare.
"Well, Emily. Am I?"
"Uh, I…I…"
The whore nodded her head with each 'I' waiting for her to go on, actually anticipating the words Emily couldn't bring herself to say.
"You what, honey?" the whore asked.
"I…it doesn't matter one way or the other." Clay grinned. "Don't care either way, do you, Emily?" She shook her head. "Why would I care? You don't set down roots without yanking 'em right back up." The blonde started for the door. "I'm gonna take a few hours for myself. If you two want my room for a bit, I'll just—" Clay grabbed her arm with one hand and tugged some gold pieces from his pocket with the other. He tossed them on her dresser and Emily's eyes widened.
"Oh," the woman said. "I can sure stay put for that kind of gold too."
Emily didn't know how much was there but it looked like a lot to her and it made a clanking noise when it hit the top of the whore's dresser. One of the pieces fell to the floor with a soft clang and Clay picked it up and tossed it with the other coins.
"What's it gonna be, Emily? You want me to fuck her while you watch or do you want to fuck me and have her watch and give you a few pointers?"
The whore smiled. "Oh now, sugar, I like the way your man thinks," she drawled. "I can't recall a time when I was paid to watch."
"I guess not," Clay said before he released his grip. "First time for everything though, right?"
Wanted By Outlaws
67
"You followed me!" Emily accused her heart racing against her chest and vibrating so strong, she felt the beat of it against her ribcage.
"Nope, didn't have to, Emily. Besides, if you ever wanna hide in this town, you'll have to cut off all of your hair or shove it in a hat.
With your hair color, never mind that little body of yours, everything about you paints a memory."
"Ain't that sweet." The whore batted her eyes at Clay. "So what's your pleasure, cowboy? Wanna fuck me or her?" She rolled her tongue over her lower lip. "Or do we all fuck each other?" Emily turned on her. "Do you mind?"
"Sugar, you're in my room and you came to me. Your man here followed you and was kind enough to put money on the dresser. Now somebody, either me or you is gonna get fucked. I don't care either way but I don't like to waste time deciding business matters." She patted Clay's arm. "What about it, cowboy?"
"Emily?"
"I'm ready to go." She shifted her weight and held her head high forcing her shoulders back with the announcement.
"You're plumb ready, right now, huh?"
"Yes, Clay. I am." She started for the door and he grabbed her around the waist.
Download


Copyright Disclaimer:
This site does not store any files on its server. We only index and link to content provided by other sites. Please contact the content providers to delete copyright contents if any and email us, we'll remove relevant links or contents immediately.