The Barrington Billionaires Collection 1 by Danielle Stewart
Author:Danielle Stewart [Stewart, Danielle] , Date: December 5, 2020 ,Views: 100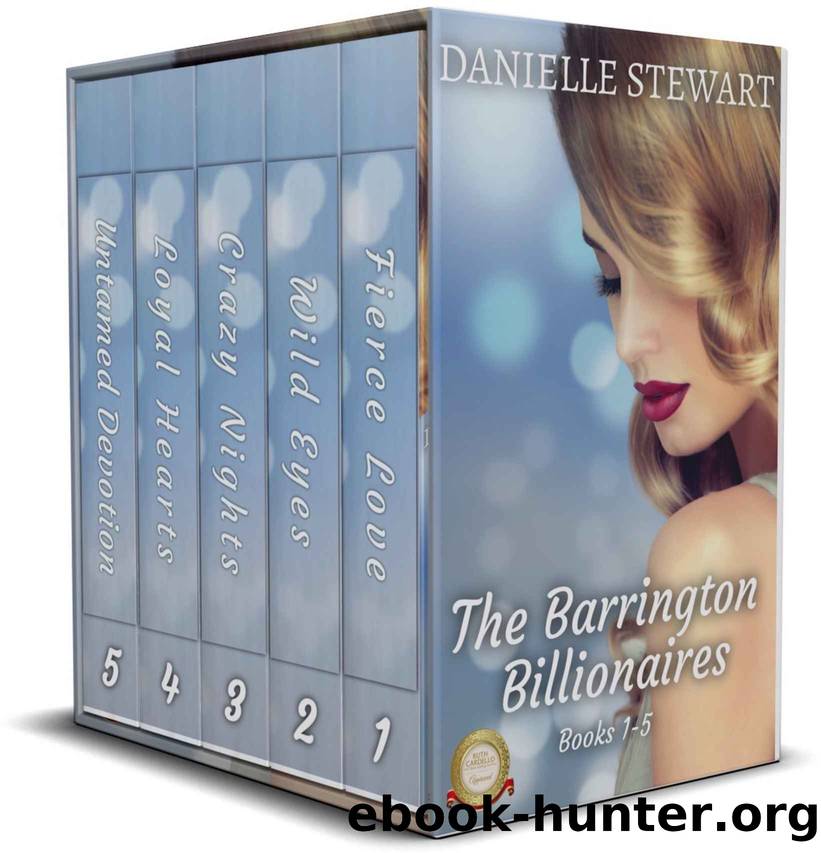 Author:Danielle Stewart [Stewart, Danielle]
Language: eng
Format: epub
Publisher: Random Acts Publishing
Published: 2020-05-16T22:00:00+00:00



Chapter 14
Emmitt had fucked a lot of women. All kinds in all sorts of places for all sorts of reasons. But never had he finished and felt anything besides the desire to run. Literally. Just run the hell out of there. Run a few more miles. Run until the thoughts in his head melted away. But right now running was a distant idea pushed out by the smell of Evie's hair draped over his arm.
"Glad you didn't go out with whatever loser Sophie was going to send you with?" Emmitt asked, tracing a finger up her hip and over her side.
"There was no loser," she said, kissing her way across his chest and then settling comfortably in his arms.
"Trust me, just because he was rich doesn't mean anything."
"No," she said with a laugh. "I mean I never called Sophie and asked her to find me a date. If I wasn't going to go with you, I didn't want to go with anyone else. I just had to call the car service I hired to bring me and cancel. When you knocked on my door I thought you might be the driver. I'm sorry if my feelings for you makes you uncomfortable or freaks you out or whatever, but I like you."
"I just worry because you have no reason to like me. There is absolutely zero logic behind thinking you could like a man like me."
"I'm not sure logic has a long standing history with emotions. I like you." She was blushing now, and he knew he could either tell her the truth or put a stop to this.
"It freaks me out," he admitted. "But I'm still here. That's different for me. You should know that. I am trying."
"It's fine," she said, looking anything but.
"Let me finish. It freaks me out that you like me because I don't not like you."
"You don't not like me?"
"Exactly. I usually don't like people. Any people, all people. I don't like them. I find little to no use for anyone. But I don't not like you."
"So you like me?" Evie asked, reserving her excitement until she understood what the hell he was getting at.
"That feels stronger than I'm willing to say," he joked, but never loosened his grip on her. "But I don't not like you."
"What's your deal?" she asked, rolling her eyes. "You're attracted to me."
"Obviously."
"We've had plenty of reasonable conversations where we seem to get along."
"Fair statement."
"I'm funny," she said, now counting the points out on her fingers.
"Debatable. Unless we're counting physical comedy because then you are great at tripping over stuff and walking into doors."
"What's wrong with me that you can't say you like me," Evie asked, but Emmitt was quick to counter.
"What's wrong with you that you can say you like me?"
"Who told you that you were an asshole? Who filled your head with that bull for so long? Because it feels like you heard it enough times you started to believe it."
"That didn't answer my question," Emmitt redirected.
"Fine, you want to know why I like you? I saw your face the day Jessica got arrested.
Download


Copyright Disclaimer:
This site does not store any files on its server. We only index and link to content provided by other sites. Please contact the content providers to delete copyright contents if any and email us, we'll remove relevant links or contents immediately.