NFC For Dummies® by Sabella Robert R
Author:Sabella, Robert R. , Date: December 6, 2020 ,Views: 52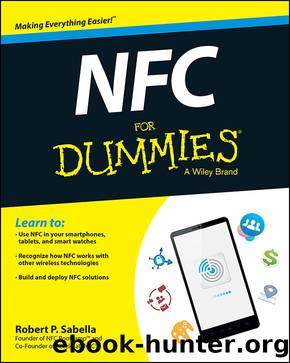 Author:Sabella, Robert R.
Language: eng
Format: epub
ISBN: 9781119182962
Publisher: Wiley
Published: 2016-03-21T00:00:00+00:00



Personalizing NFC Use
NFC doesn't have to be a commercialized proposition. You can also use it for personal needs. The tags aren't so expensive that you can't code some for specific home needs. For example, a tag on the side of the washing machine can place a reminder in your smartphone to buy more laundry detergent (or possibly make the purchase for you). The following sections describe some ways you might use NFC for personal needs.
Using tags to perform common actions
The "Working in reader/writer mode" section of Chapter 4 is one of several places in the book that discuss techniques for creating tags. However, it's a good idea to know why you may want to create a tag. Of course, there are all the business uses for tags discussed so far in the book, but you can also use tags for your personal needs. The following list provides some examples of how you might use tags to address personal concerns:
Reconfigure your smartphone for home: A tag placed next to your door can reconfigure your smartphone for the home environment. You may want to turn off the Wi-Fi used at the office and turn Bluetooth on instead. Because you won't have your smartphone attached to your hip, you may want to turn off vibrate mode and turn up the volume so that you can hear the smartphone ring anywhere in the house.
Reconfigure your smartphone for the car: A tag placed on the dashboard can connect your smartphone to the car's systems. You can enable Bluetooth communication and set up the smartphone for hands-free operation. The car can play your favorite tunes right from your smartphone. You can also create a connection to Google Maps so that you can obtain individualized GPS instructions.
Setting up for the gym: Adding a tag to your sports bag can let you put the smartphone in flight mode so that you're not disturbed during your workout. The same tag can start your favorite playlist so that you have music while working out. Using toggle mode, you can reverse the changes when you're done working out.
Ending your day: Place a tag on your nightstand to configure your alarm clock and put the smartphone into flight mode. The smartphone can display a clock application while it sits in the charger overnight.
Starting your day: The tag to turn off your alarm is actually in the bathroom, so you need to get up to scan it. The "Getting a general application" section of Chapter 12 discusses the Puzzle Alarm Clock app, which is an interesting and fun way to wake up in the morning.
Automatically starting your PC: After a hard day, you come home and want to start the PC that runs your entertainment system automatically. Chapter 12 discusses a number of apps that you can use to help the process along. Even though the process does take a few steps (see the article at https://vv.reddit.com/r/Android/comments/16gldh/using_taskerwolnfc_tags_to_auto_start_your/ for guidelines), you have to set it up only once to enjoy the full benefits of automation in your home.
Download


Copyright Disclaimer:
This site does not store any files on its server. We only index and link to content provided by other sites. Please contact the content providers to delete copyright contents if any and email us, we'll remove relevant links or contents immediately.