Love and Science: A Memoir by Jan Vilcek
Author:Jan Vilcek , Date: August 1, 2020 ,Views: 12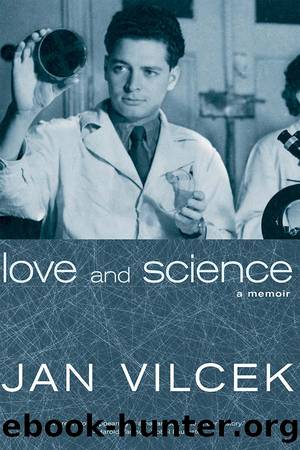 Author:Jan Vilcek
Language: eng
Format: azw3
Tags: immunologist, success, Czechoslovakia, immigrant, philanthropy, Communism, cancer cure
ISBN: 9781609806699
Publisher: Seven Stories Press
Published: 2016-12-20T08:00:00+00:00



There was another, strictly confidential item on my agenda at the Smolenice interferon meeting. By now I was married. Some weeks before the meeting, my wife Marica and I had played hosts to a colleague from Vienna, professor Hans Moritsch, head of the Department of Hygiene and Microbiology at the Vienna Medical School, and his wife Edda, who stayed with us in our home in Bratislava and then extended an invitation for us to spend a weekend with them in Vienna. We explained that it was unlikely the authorities would grant us permission. In the rare instances when someone was allowed to travel to a Western country, common practice in the Eastern Bloc was to ensure that a spouse or a child was kept behind so as to make defection unlikely. As we had no children, we thought the secret police would consider it too risky to permit Marica and me to visit Vienna together.
Nevertheless, we asked the Moritsches to mail us a written invitation so that we could submit an application and hope for a miracle. The invitation from the Moritsches to visit them for a weekend arrived, and a few days before the opening of the Smolenice conference, Marica and I submitted our applications for a travel permit.
There was something we did not mention to the Moritsches at the time. Ever since getting married two years earlier, Marica and I often discussed the idea of moving to the US where Marica's older brother lived and worked as a physician. Since getting a permission to emigrate from Czechoslovakia to a Western country was impossible for people of our generation, we came to an agreement that if the opportunity arose, we would defect.
I knew that if we defected, I would need help to find a job. I had to decide who among the Western colleagues I knew would be trustworthy enough to be told in confidence about our plans. As the conference approached, I decided that it would be Edward and Jaqueline De Maeyer, with whom I had developed a friendship during my visit to Leuven when I had stayed in their house.
Since I suspected that the walls of the Smolenice Castle were bugged, I told Edward and Jaqueline about our secret plans during a walk in the surrounding gardens. If Marica and I were to get to Vienna, would they be in a position to find me a temporary position at their institute in Leuven? We knew that if we were able to get out of the country, we would want to settle in the US, but we had no idea how long it would take us to get American immigration visas, and we would need a home in the interim. Edward offered to consult in confidence with their influential director, De Somer, who happened to be in Smolenice too.
Soon Edward and I took another walk through the gardens during which he told me that De Somer promised to do his best for us, but he needed more time to determine if he could find the necessary resources to offer me a job.
Download


Copyright Disclaimer:
This site does not store any files on its server. We only index and link to content provided by other sites. Please contact the content providers to delete copyright contents if any and email us, we'll remove relevant links or contents immediately.