Family Don't End With Blood by Lynn S. Zubernis
Author:Lynn S. Zubernis [Zubernis, Lynn S.] , Date: February 23, 2021 ,Views: 25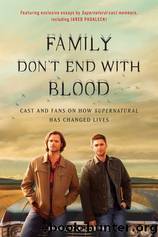 Author:Lynn S. Zubernis [Zubernis, Lynn S.]
Language: eng
Format: epub
ISBN: 9781944648350
Amazon: 1944648356
Publisher: Smart Pop
Published: 2017-05-09T05:00:00+00:00



RUTH CONNELL
My mum has a lovely melodic singing voice. I remember her singing "Memory" very well when I was wee; very musical is my mum. My dad is tone deaf. I mean literally unable to repeat accurately a single note just blasted at him. Not for want of trying, mind you; my dad sings around the house almost constantly things like, "Who's sorry now …" at full tilt. It often amazes me when I hear old songs on the radio and I somehow know the lyrics but the tune is strangely unfamiliar …
I live somewhere in the middle.
When I was nine years old I was given a song-and-dance routine to perform at a dancing competition. I wasn't aware of any competitiveness or of winning medals, just that I had a dance to learn and somehow a song that went along with it to sing: "The Chattanooga Shoe Shine Boy." The rendition I had to go on was all played in the minor key, on an old piano, on a dodgy recording that was never broken down for me audibly, never note bashed or shown to me as sheet music on paper. I never saw the notes or understood the tune in that way. Or any way! I couldn't hear the tune on the recording, either. These are all my excuses.
I was sent out in front of an auditorium full of people in my Little Lord Fauntleroy–style burgundy velveteen jodhpurs (clearly the go-to gear of shoeshine chaps in old Chicago town in the 1920s) to belt out said song for one minute and thirty seconds, on my own.
I came offstage and my mum said, "Oh, hen!" She said this not in a good way with a joyous tone; it was more a perplexed, anguished tone. That I could hear. (Mum, I know you were just concerned—I love you, and ALL the costumes you made me were amazing and I couldn't have done ANY of this without you.) You know in nightmares when you are naked at school or with all your teeth crumbling out of your mouth and out on a date? That slow-motion surreal knowing that something is not quite right and yet there is nothing you can do about it whatsoever except try to live through it. That, onstage, in front of all my peers.
I wasn't used to failing that badly at stuff. I felt ashamed and confused that I had somehow messed up and done such a bad job. More so, that I had had no control over any of it. I got a fright to the point where I refused to go onstage and do it ever again (or until the next festival at least). I admitted defeat to myself in the song-and-dance arena, which had meant a lot to me, as musicals were in my brain and in my blood—I adored them, was weaned on old movies, and really all I had wanted out of life was to be Michelle Pfeiffer in The Fabulous Baker Boys. So the dream died.
Download


Copyright Disclaimer:
This site does not store any files on its server. We only index and link to content provided by other sites. Please contact the content providers to delete copyright contents if any and email us, we'll remove relevant links or contents immediately.