1250052653 (N) by Tanya Byron
Author:Tanya Byron , Date: December 5, 2020 ,Views: 126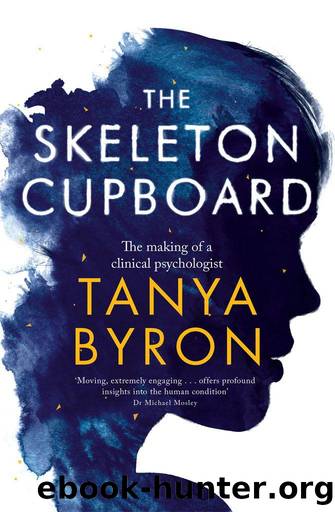 Author:Tanya Byron
Language: eng
Format: azw3
ISBN: 9781447261674
Publisher: Macmillan
Published: 2014-05-21T23:00:00+00:00



Five
THE SKELETON CUPBOARD
An all-girls private school is the best training ground for perfecting the sport of the eating disorder, and by the time I was fourteen years old, a number of my friends were winning the Olympic gold.
'Did you know,' asked one, 'that you can eat what you want when you want but not get fat if afterwards you poke your fingers into the back of your throat and puke it all up?'
We were all gripped. Really? Was it that simple?
'Yes!' she said. 'And if we all eat some raw red pepper before we eat everything else, my sister told me that apparently we can work out when we've chucked everything up because the red-pepper skin will be the last thing to come up! It's difficult to digest!'
So, after lunch we all trooped to the toilets, took up our positions in the individual cubicles and heaved and retched our way to weight loss.
To be honest, I was rubbish at it, a proper coward – I hated being sick. As much as I tried, I just couldn't go through with it. My instinct to pull my fingers out of my throat was stronger than my gag reflex. It felt like almost drowning and then pushing up to the surface and taking a big gasp of air.
However, because we went to the sort of all-girls school where success in everything was paramount, my friends offered all manner of helpful suggestions, and so I armed myself with biros, toothbrushes and even a tongue probe that one girl had stolen from her dentist father. None of them worked for me, but my fear of being a failure made me an expert at fake retching, which, combined with a water bottle poured into the toilet bowl at strategic intervals, reassured my friends that I could do it.
We were the champions!
The problem, however, was that while my friends were all getting thinner, I was staying the same weight. They became suspicious; we were not allowed to fail at anything, not even being naughty eating-disordered girls.
One day in a really boring music class led by the small, round amateur opera singer Miss Giddens, I decided to be properly naughty and so rather pathetically took my shoes off and placed them facing outwards from underneath the long curtains in the music study room.
Oh, ho, ho, look – there's a girl behind the curtains. No! It's only a pair of shoes. Too funny!
Miss Giddens was deeply unimpressed; she told us that we were in the top 5 per cent of the population and if we were going to prank, either we should make it a bloody good one or not bother.
I was rubbish at self-induced vomiting and pranking. Even before my rather poor A-level results, which definitely did not place me in the top 5 per cent, I was already a failure at that school.
To put my suspicious friends off the scent of my poor performance in the purging department, I got into sport. As well as puking, I worked out that exercising can get rid of calories, and that strategy worked better for me.
Download


Copyright Disclaimer:
This site does not store any files on its server. We only index and link to content provided by other sites. Please contact the content providers to delete copyright contents if any and email us, we'll remove relevant links or contents immediately.