12. The Case of the Substitute Face by Unknown
Author:Unknown , Date: February 23, 2021 ,Views: 19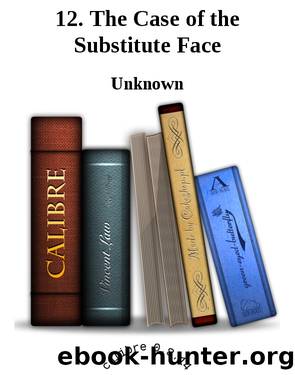 Author:Unknown
Language: eng
Format: epub
Published: 2011-09-16T11:53:23+00:00



"Certainly. Just a minute."
She left them and went into the bedroom. "What does the letter say, Paul?" Mason asked in an undertone.
"All about the Islands, people she met, dances she's attended, a luau, native feast, and how they ate with their fingers, and ... "
"Never mind all that," Mason said. "How about the intimate personal details?"
"She tells Marian she forgot to send her fall suit to the cleaners, to please have it cleaned and pressed, and there's a spot on one sleeve which she's to call to the attention of the cleaner. That she'd like to have her fur coat out of storage when she gets back, and ... Wait a minute, Perry, she mentions her husband..."
Marian Whiting returned with a photograph album. She placed it on the table. Mason and the detective stood at her side as she turned the leaves. "Here's Evelyn..."
There's an old picture of Evelyn and Carl Moar. There's another one of Evelyn. Here we are in bathing suits... Here we are ... " Abruptly she laughed and turned the page. "I guess you hadn't better see that one. Here we were on our vacation in shorts. Here's Evelyn and a boyfriend. Here's ... Oh, wait a minute. I know... I have a dandy picture taken when Evelyn sailed."
She turned over a dozen pages and showed them a mounted, eight-by-ten enlargement. "Here it is. I had the picture enlarged because it was such a good negative. You can see her up there at the rail. See, she's holding on to the strips of colored paper..."
Mason said, "Pardon me," picked up the photograph album and took the picture to the light so that he could study it carefully. "I'm something of a nut on photography myself," he said, by way of explanation. "This is a fine piece of work. You must have a very good camera there. Miss Whiting."
"I have," she said. "It was given to me by an uncle who runs a camera store in the East. It takes a sharp negative, has an anastigmatic lens and a focal plane shutter..."
"I see you're something of an expert yourself," Mason laughed.
She nodded. "I'm just crazy about it," she said, "and this color photography gives me the biggest thrill of all."
Mason said, "Yes, I bought a miniature camera over in China and snapped hundreds of colored pictures. Perhaps when your sister gets back you'll be interested in seeing those I took in Honolulu and while I was on the ship coming over. By the way, who's this young chap standing just back of your sister? He seems to be acquainted with her, and ... "
Marian Whiting grabbed up the album, started to say something, and then checked herself and said, "Someone on the boat, I guess."
"He seems to be taking quite an interest in your sister," Mason said.
"Oh, Sis just slays 'em when she gets on a boat, " Marian Whiting said. "Why, I remember one time - "
"I notice his hand is on her shoulder," Mason insisted.
Marian Whiting looked up and said, "I'm not supposed to tell you about this, Mr.
Download


Copyright Disclaimer:
This site does not store any files on its server. We only index and link to content provided by other sites. Please contact the content providers to delete copyright contents if any and email us, we'll remove relevant links or contents immediately.